Dashami Inclusiveness: Trans, widows do Sindoor Khela
Siliguri (West Bengal) [India], October 24 (ANI):
Breaking with tradition, Winners' Club of Siliguri in association with Unique Foundation, a city-based voluntary organisation celebrated 'Sindoor Khela' with transgenders and widowers in their program. Traditionally, only married women  participate in the Sindoor Khela ritual. However, a recent campaign of inclusiveness has revived the practice of all women participating, including widows and transgenders.
The initiative was taken to show respect to those who are always neglected by a section of society in various festivals.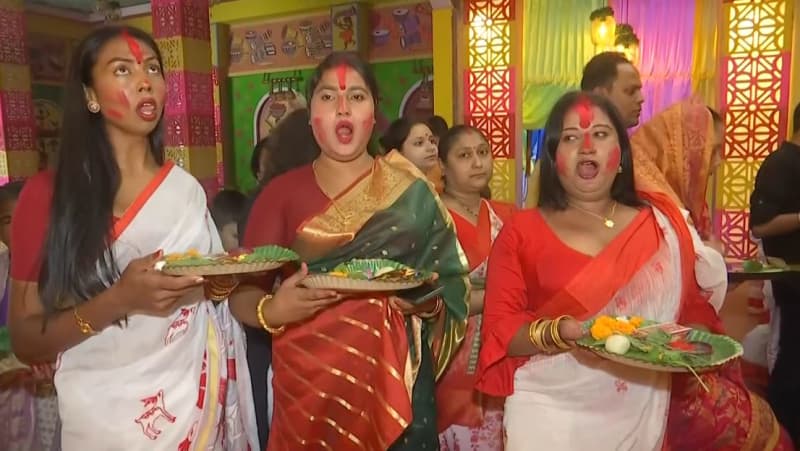 According to mythology on the day of Vijayadashami, Goddess Durga annihilated the demon god Mahishasura after a fierce battle that lasted for nine days.
Vijayadashami is the day that also marks Durga Visarjan or the immersion of Durga idols symbolising the journey of the Goddess back to Mount Kailash after ten days of stay at her parent's house on earth.
Meanwhile, women in Sainthia of Birbhum district bid farewell to Goddess Durga with a ritual known as 'Sindoor Khela'.
This ritual takes place on the final day of Durga Puja, a major festival in India, particularly in West Bengal.
Vijay Dashmi, the last day of Durga Puja, saw married Bengali Hindu women apply sindoor on the forehead and feet of the goddess and offer sweets to her, followed by applying sindoor to each other's faces.
Sindoor Khela is known as the 'vermillion game', and is celebrated by married Bengali Hindu women. The ritual takes place before the idols are submerged.
Sindoor Khela is a customary element of the Durga Puja celebrations in Bengali culture. It's believed to symbolize the power of womanhood in protecting her husband and children from all evil. Through the ritual, the Hindu women pray for long and happy married lives of each other.
The tradition is celebrated across Kolkata and the entire state. Women first perform 'Arati' and then apply sindoor to the forehead and feet of the Goddess and then apply the same sindoor to each other faces. (ANI)